João Benjamin Zaffari Building has dFlow technology.
In August 2018, the JBZ – João Benjamin Zaffari Building, brought a new milestone in terms of finishing and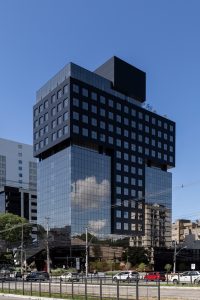 innovation to Porto Alegre's corporate buildings landscape.
The starting point of this venture is its privileged location. Bearing the number 400 of Carlos Gomes Avenue, it is based right in the center of city's main corporate hub.
Afterwards, the choice and use of noble materials sought a balance with the use of innovative technologies, such as energy and environmental efficiency, to create a unique venture.
Digicon contributed with the project through dFlow equipment, bringing an unprecedented and more pleasant experience to users that combine technology, design and security.