Digicon partners up with Hi-Tech Security to install dFlow in Russia
Once again a contact generated in a trade show resulted in business opportunity for Digicon. This time it was at the Intersec Show in Dubai-UAE in 2019. During the trade show Hi-Tech's Commercial Director, and key personnel from one of Russia's biggest banks met Digicon and found more about its solution.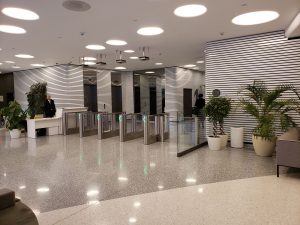 The opportunity flourished and resulted in the installation of 12 gate lanes. The Bank chose Digicon's innovative solution specially because of its tracking accuracy and anti-tailgatting system. Moreover the dFlow grants a sense of freedom and this matches the open space concept their building has.
It's important to highlight that the dFlow operates with normally open doors unlike traditional systems. Doors only close when unauthorized users attempt to go through the gates.
Banks and financial companies in general are a vertical market very worried with security. So Digicon gets extra flattered when it's chosen as partner in such projects. This partnership is only starting.